Our Veterinarians
When a family member is under the weather or suffering from discomfort, he deserves the attention of a caring, competent physician with the skills to diagnose his ailment and the compassion to treat him with tenderness.
At Travis Country Veterinary Hospital, an expert staff of veterinarian doctors and a skilled team of technicians are here to do just that. Under the directorship of our highly skilled veterinary doctors, your pet is always in good hands. We're ready when your pet needs us.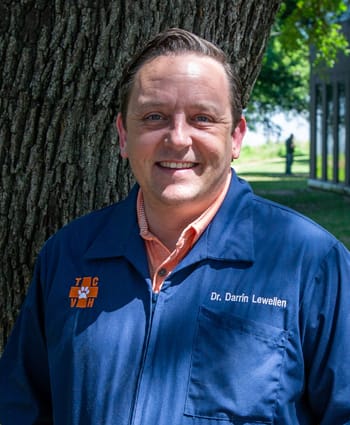 Darrin Lewellen, DVM – Medical Director
Dr. Darrin Lewellen joined the TCVH team as Medical Director in March of 2019. He was born and raised in the Texas panhandle, and graduated valedictorian from Plainview High School before attending Texas A&M University. He is 2000 graduate of the College of Veterinary Medicine at TAMU.
Darrin has been in general practice in Santa Fe, NM, and the Austin area since graduation. His veterinary interests include surgery, pain management, geriatric care, and integrative medicine. He also has experience with a number of non-traditional pets.
Dr. Lewellen is a longtime resident of the Lake Travis community. When not at the hospital, he enjoys being active with his children and playing golf.
Lauren Buys, DVM
Dr. Buys has been with Travis Country Veterinary Hospital since high school, when she worked summers as a veterinary assistant. Since receiving her degree of Veterinary Medicine from Texas A&M in 2008, she has been an integral part of the TCVH family with a large and loyal pet and client following. She lives in Austin with her husband and daughter, as well as one dog, two cats, two goats and six chickens.
Dr. Sam Seider, DVM
Dr. Sam Seider joined Travis Country Veterinary Hospital in December of 2017. He is a graduate of Ohio State University and has a personal interest in veterinary cardiology. While not at the clinic, he enjoys hiking.