About Travis Country Veterinary Hospital
For over 32 years, Travis Country Veterinary Hospital has provided comprehensive and loving care to Austin pets. In 1976, a local veterinarian started an animal hospital in the countryside just outside Austin. Located off of Highway 290, near Oak Hill, Travis Country Veterinary Hospital was a country clinic surrounded by open fields. True to his roots, he delivered honest and high-quality care to his neighbors' animals.
As Austin grew, so did the hospital. In 1984, Dr. Corky Trlica, A&M '73, purchased the animal hospital from his classmate and continued to grow the practice. In 2008, Dr. Lauren Buys, A&M '08 joined the practice, followed by Dr. Chuck Clinton, A&M '73 in 2010.  Dr. Stephanie C. Murphree, Ross '05, and Dr. Alice Dietz, A&M '11 joined in 2012, and in June of 2016, following Dr. Trlica's retirement, Dr. Lacy Parson, A&M '15 rounded out the practice.
Today, these five veterinarians continue to offer the same honest and high-quality veterinary services that began with the country clinic. From wellness exams to annual vaccines, dental cleanings to specialized surgeries, Travis Country Veterinary Hospital wants to make sure that your cat or dog has a long and healthy life.
Learn more about the care services available to your beloved pet. Speak with a member of our courteous, professional staff today. We're here to help your pet live a life of health and wellness.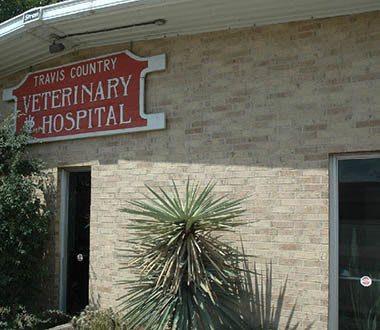 Mission Statement
The mission of Travis Country Veterinary Hospital is to serve our patients and clients with care and compassion, using up-to-date equipment and diagnostics to ensure that optimal wellness is achieved with minimal discomfort. We strive to alleviate pain and suffering for all animals as we promote ongoing preventative care and continuing good health.
Core Values
At Travis Country Veterinary Hospital, we believe in quality care at an affordable price. Our focus is ensuring that your best friends have a healthy and long life.